Regular price
Sale price
$135.00
Unit price
per
Sale
Sold out
Materials & Dimensions



Copper, Petrified wood

Oxidized and polished

65x35 mm

Free gift suede cord included 



Shipping
Worldwide Shipping

Departs within 1-2 days of purchase.
Shipping to USA, UK, Europe takes 2-6 weeks

Petrified Wood Wire Wrap Pendant, a stunning piece of handcrafted jewelry that is perfect for anyone who loves unique and natural designs. This pendant features a beautiful piece of petrified wood that has been securely wrapped in wire, creating a one-of-a-kind piece that is sure to turn heads. The natural beauty of the petrified wood, combined with the intricate wire wrapping, makes this pendant a true work of art. It's versatile and can be worn for both casual and formal occasions, making it a great addition to any jewelry collection.
Petrified wood is believed to have various magical properties, which have been revered and studied by many cultures throughout history. 
Grounding: Petrified wood is believed to have grounding properties, making it an excellent stone for anyone who needs to feel more centered and stable. It's said to help you connect with the earth and create a sense of stability and security.

Protection: Petrified wood is believed to offer protection from negative energies and psychic attacks. It's said to act as a shield against harmful energies and promote a sense of safety and security.

Healing: Petrified wood is believed to have healing properties, particularly for physical ailments related to the bones, joints, and skeletal system. It's said to help relieve pain, reduce inflammation, and promote overall health and well-being.

Wisdom: Petrified wood is believed to contain the wisdom of the ages, making it an excellent stone for anyone who wants to tap into ancient knowledge and wisdom. It's said to help you connect with your ancestors and access the collective wisdom of humanity.

Manifestation: Petrified wood is believed to be a powerful manifesting stone, helping you to bring your desires and dreams into reality. It's said to help you clarify your intentions and take action towards achieving your goals.
Overall, petrified wood is considered a powerful stone that can offer a wide range of benefits for the mind, body, and spirit. Its magical properties make it a popular choice for those seeking grounding, protection, healing, wisdom, and manifestation.
Share
View full details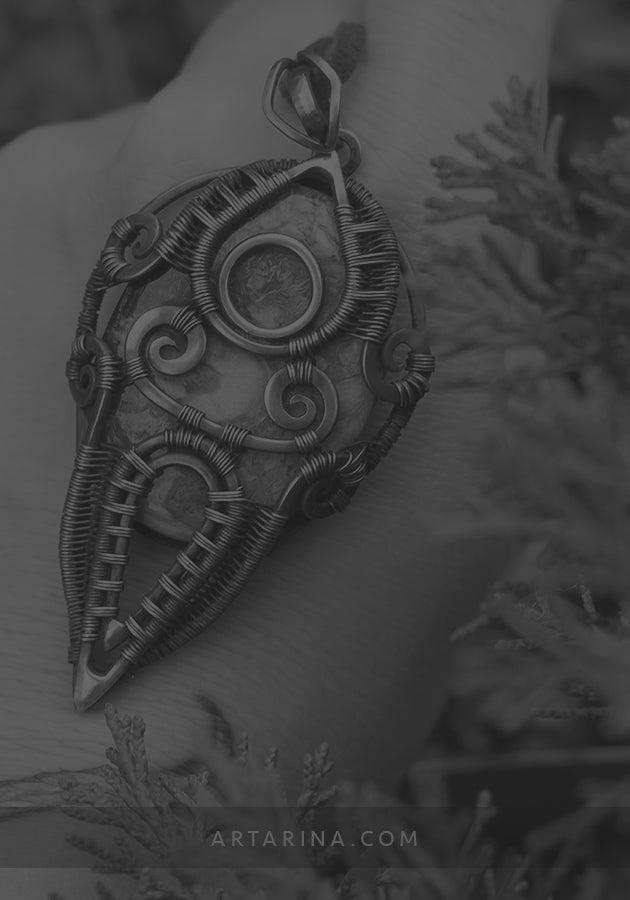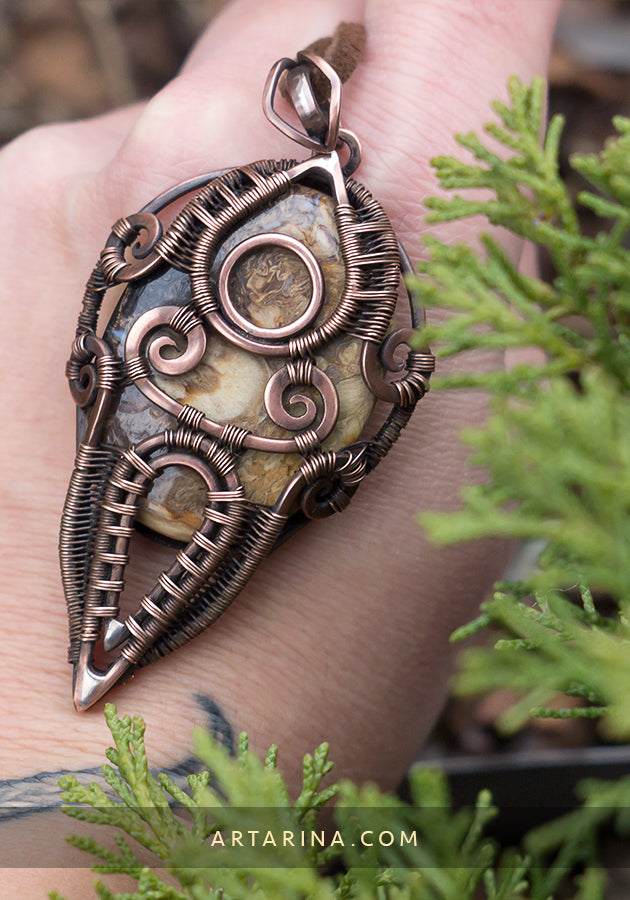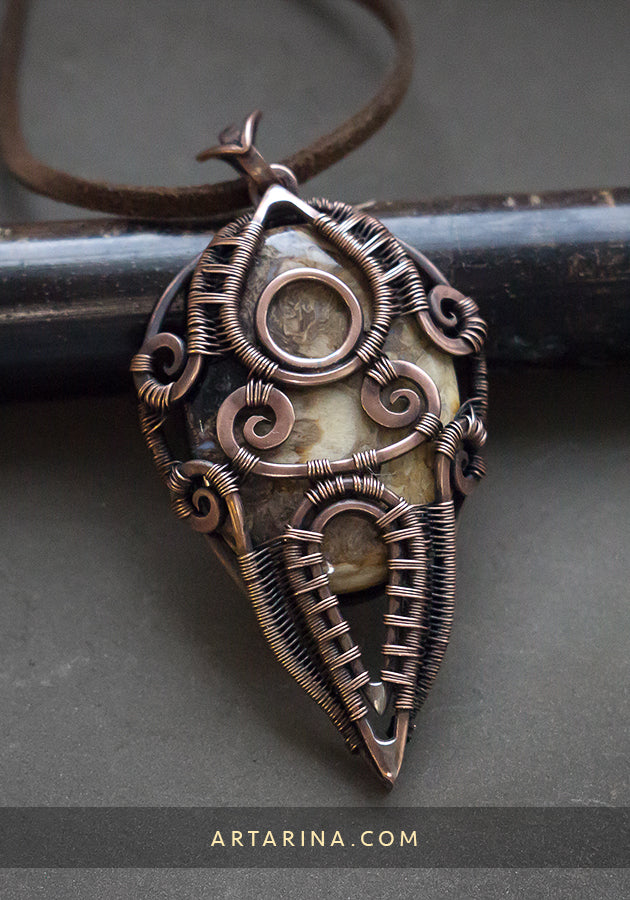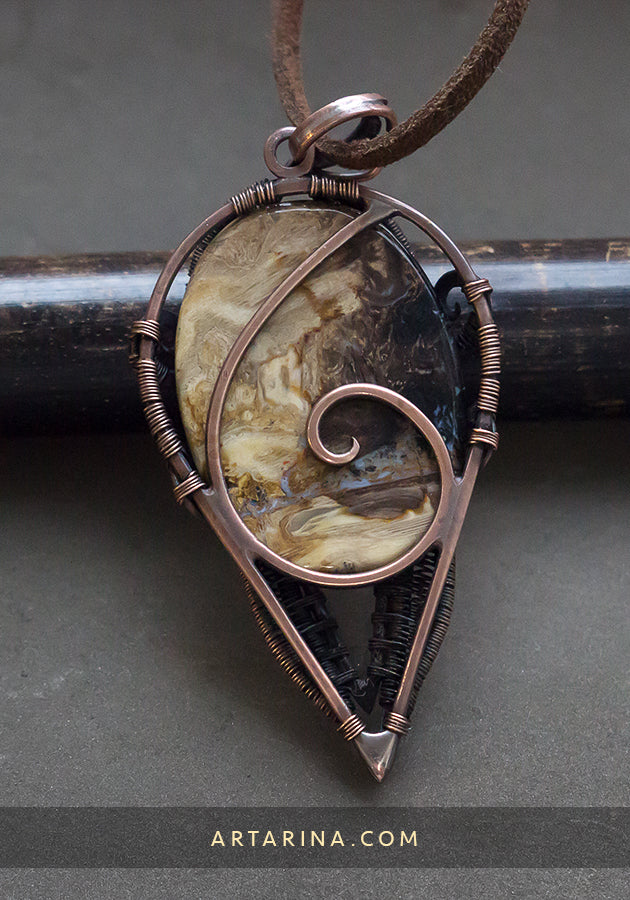 Collapsible content
Shipping Details


◉ FREE SHIPPING FROM $100 AND ABOVE

◉ We support full international shipping to any country

◉ Parcel departs from Kharkiv (Ukraine) same or next day of purchase.

◉ Each parcel has a valid track number.

◉ Shipping to USA, UK, Europe takes 8-30 days

◉ During Christmas holidays shipping can take more time because of overloaded mail services.
Care Instruction


◉ Keep your pendant in a dry dark place, and try to avoid contact with household chemicals and aggressive chemical environment (remove when painting hair, etc.).


◉ To maintain patina contrast, it is not recommended to use aggressive methods for cleaning jewelry (boiling in chemicals, using acids), since there is a risk of damaging some natural stones and minerals, and completely removing patina from the metal.

◉ 
Copper gets darken with time. To return the original shine, simply wipe the convex sections on your necklace (in case of severe darkening it is permissible to apply a little toothpaste on a dry cloth), and then rinse the product with water and wipe it with a soft textile
.

◉ You can use old toothbrush and liquid dishwasher (like Fairy for example) to clean your necklace
Returns policy


If, for some reason, the pendant does not satisfy you - you can contact us and ship item back within 14 days of delivery.